INVITE JAN TENNYSON, AUTHOR - FOR SPEAKING ENGAGEMENTS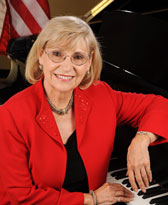 Jan Tennyson, an inspirational speaker, pianist, choreographer and writer who ignites a flame in the hearts of all people to live a rewarding life of fulfillment and purpose.
Her personal struggle as a child growing up in the unstable foster care system in New York was the catalyst that ignited a passion to create Dare to Dream Children's Foundation. Since 1987, thousands of abused, neglected, foster children and orphans have heard messages of encouragement and hope through the knowledge and love of Jesus Christ.
As a child, Jan had the ability to bring out the best in people. The stoop outside her childhood home in Bayside, Queens, became her stage for productions with neighborhood children, eventually leading to a dream piano performance in Carnegie Hall and the Brooklyn Academy of Music. Years later she moved to Dallas, where she became the choreographer for the Contemporary Chorale of Richland College.
Her corporate experience has taken her from cosmetic and newspaper sales to working for Bank of America, United Airlines and the Thoroughbred Racing Association in New York City.
Winning the Best Years of Your Life Contest by the National Tour Association allowed Jan to create a Dare to Dream experience for at-risk youth in the Capitol in Washington, D.C. Mountaintop experiences in ministry have taken her from the River Jordan in Israel to the jungles of Costa Rica, and the orphanages in Romania and Russia. Jan also ministered in a refugee camp in Thailand, an earthquake survivor's camp in Turkey, the schools in Mexico, and other places too numerous to mention.
Radio and television media, including the Trinity Broadcasting Network, have featured Jan with her incredible story of resilience and persistence to inspire the young and old alike to have the courage to dream and trust again. She has won numerous awards to include the 2006 Altrusa Award – Outstanding Woman of Today for the non-profit sector, the 2007 Ebby Halliday Rose of Distinction award and the Texas Governor's Lonestar Achievement Award. In 2010 Jan Jan self-published her autobiography - She Dares to Dream...The Jan Tennyson Story, which is available on this website. Proceeds will benefit Dar to Dream Children's Foundation.
Jan's strong belief in God has allowed her to shake off the dust of the past and live an extraordinary life. She lives in Dallas, Texas and has two grown children and four grandchildren who are the joy of her life. She looks forward to speaking at your next conference, graduation, church service, or celebration. She'll challenge and inspire you to reach for the stars and gain confidence to accomplish more in your personal and professional life than you have ever dreamed possible.
What Others are Saying:
"Jan, your class is so uplifting and upbeat. Not only is the presentation encouraging, but you are a living example of what you teach."
"Thanks for all the time, encouragement, challenges, and prayers. Your teaching has encouraged me to dream and challenged me to formalize those dreams".
"Jan, thank you for choosing to follow Him and make His hope alive to us."
"I enjoyed this class. It really lifted me up. Thanks for helping me and encouraging me to open and stretch my box."
"Thank you. I have begun to evaluate everything I am planning - by your 'one-year to live' plan. Some things just don't seem as important to me. I have begun to see things with new eyes".
"I loved your talk. I've never been so challenged and inspired to share my faith."
FOR SPEAKING ENGAGEMENTS
CALL 214-599-9563 x 3 Fax 214-599-9226
Jan Tennyson – Dare to Dream Children's Foundation
6310 LBJ Freeway, Suite 111
Dallas, Texas 75240